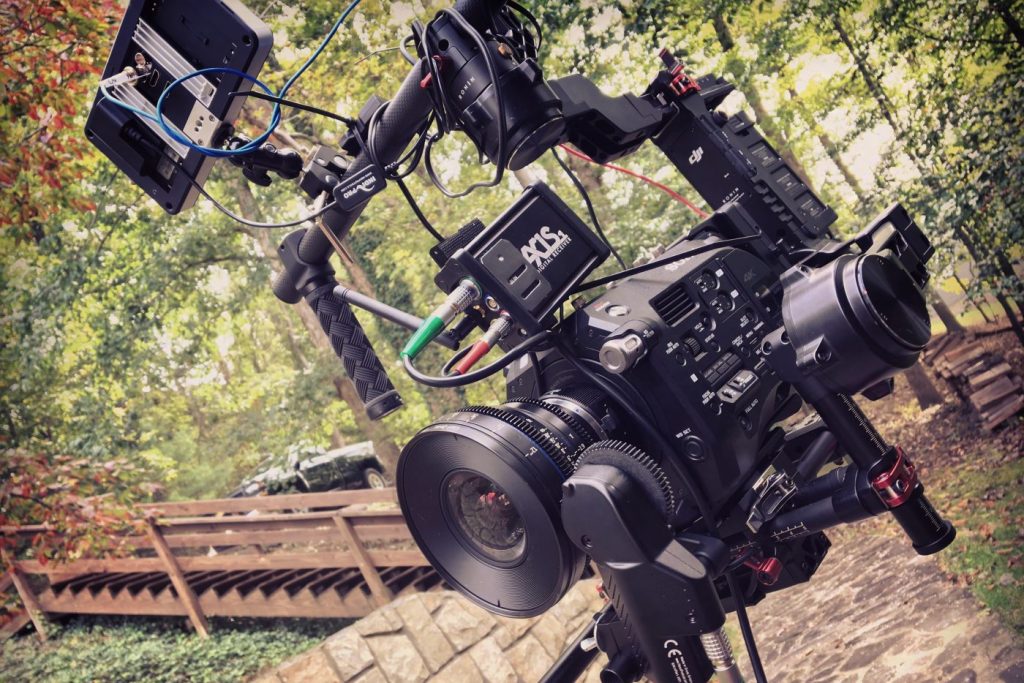 iAproductions is fully equipped to provide a DJI Ronin 3-axis gimbal, the Axis 1 follow focus from Hocus Products,  the Tilta Armor Man 2 gimbal support vest, a SmallHD 702 Bright monitor and a DJI Lightbridge wireless video transmitter.
Our DJI Ronin 3-axis brushless gimbal has been enhanced with extension arms to allow for greater flexibility in camera mounting.  We can outfit the Ronin gimbal with one of our three cameras, the Sony FS-7, the Sony EXR1 or the Canon 5D, or we can rent the camera of your choice or you can bring your own.  Some physical restrictions apply to the use of long lenses or heavy bodies cameras.  Please contact us for a consultation.
The DJI Ronin 3-axis brushless gimbal provides a flexible platform that can serve a variety of shooting needs.  It provides image stabilization and smooth movement with a single operator, effectively replacing the need for a complicated dolly or slider set up.  Focus can be controlled by that operator as he monitors his shot on the SmallHD 702 Bright video monitor by way of the Hocus Products Axis 1 Thumb Roller.  The Tilta Armor Man 2 keeps the operator from tiring an keeps the camera and the rig safe from accidental drops. An operator secured to the bed of a truck, UTV or other moving vehicle can serve as a replacement for a car mount.  The unit can also be independently suspended from a crane, pole or tree and operated remotely from the ground.
For better control in complex shots, a second team member can pull focus using the Hocus Products Axis 1 remote control while watching a remote monitor via DJI Lightbridge or other wireless transmitter. A third operator can also be added for complete independent control of the camera's pan, tilt and zoom. 
The DJI Ronin offers a more flexible and cost effective solution versus traditional Steadicam rigs and operators.
---